Xiaomi is expanding its subsidiary's portfolio Mijia about a new product. It's high-end handheld cordless vacuum cleaner, from which it is easily possible to make a hand vacuum cleaner. It was introduced in China in the form of a crowdfunding campaign organized by the manufacturer on the Chinese social network Weibo.
"Cutting-edge technology, half price"
New Xiaomi Mijia The handheld cordless vacuum cleaner was introduced with the slogan: "Top technology, half price". The slogan makes it clear that Xiaomi's vacuum cleaner offers cutting-edge technology for half the price of the competition.
In China, it was valued at 1299 yuan, which is in conversion 175 € / 4450 CZK. In crowdfunding, however, those interested can get it cheaper, for 1199 yuan, ie 159 € / 4100 CZK. For comparison, competitive vacuum cleaners with very similar specifications are sold for prices over 400 € / 10 CZK. Should Xiaomi introduce a new best-seller in this category?
The hand brother of the robotic Mi Robot Vacuum
Mijia handheld wireless vacuum cleaner is another home cleaning device after the popular robotic vacuum cleaner Mi Robot Vacuum directly from the brand Mijia. Mi Robot Vacuum, which currently accounts for 3 million units sold and almost zero negative reviews, received its "own brother" after three years.
As Xiaomi claims to be new high-end product, we expect the same high quality and reliability. Mijia handheld cordless vacuum cleaner has mastered 9-cyclone vacuuming technology. Cyclone technology is specific to handheld cordless vacuum cleaners, but Xiaomi has taken it to the next level.
Premium technology, powerful engine
It forms inside the vacuum cleaner 9 miniature tornadoesthat effectively break down dust and dirt. Xiaomi has thus achieved that the vacuum cleaner pipe will always be clean and vacuum cleaner will not lose its performance. So far, only two companies - LG and Dyson - have adopted similar technology. Xiaomi is therefore the third manufacturer to offer this premium technology.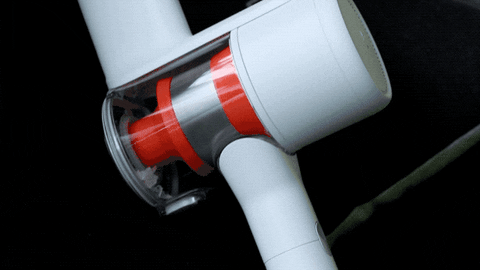 The vacuum cleaner from Xiaomi has a high speed 350 W motor with output 100 rpmthat provides maximum suction power 100AW. This is achieved in MAX mode. The vacuum cleaner is also equipped 5-fold filtration system for dust removal. Filter socket eliminates PM2.5 dustwhich is an advantage for allergy sufferers.
Multifunction heads
The advantage of hand-held cordless vacuum cleaners is their multifunctionality and also dexterity. Xiaomi has equipped its vacuum cleaner with four multifunctional heads that can be used for various surfaces or types of cleaning.
The package comes standard soft rotating roller (suitable for wooden floors, tiles, tiling), bristle brush for removing dust from a table or keyboard, fixed narrow head for cleaning gaps and special dust brush. With this brush and high suction power, it can remove up to 99% of dust, mites or hair from textile material.
160 m2 per charge
Mijia The handheld cordless vacuum cleaner is powered by a built-in rechargeable 2500 mAh battery. The manufacturer states that it can handle one charge vacuum 160 m2. In standard mode, the operating time is 30 minutes. Endurance in MAX mode is not specified.
The weight of the vacuum cleaner is just 1,5 kg, which contributes to comfortable, effortless use. The manufacturer states the noise at 72 dB. The advantage is a washable filter. It is also included in the vacuum cleaner package wall bracket, thanks to which you can hang the vacuum cleaner on the wall. Worth mentioning is also used design language Mi-Look, for which Xiaomi has won several international awards.