Every household has a gadget like a high-pressure cleaner, or as some call it a "wapka". You never know when it will need to be used, and Xiaomi thought of us with that Jimmy JW31 high pressure cleaner.
extra is wireless and only the water hose needs to be connected, which makes it extremely practical for transmission.
The latest price in the EU stock
You can buy Xiaomi Jimmy high-pressure wireless cleaner for a great price thanks to a discount from the seller at Aliexpress, which comes with the offer in a German warehouse.
The advantage is just fast delivery from a European warehouse, which will take only 10 days. Postage is absolutely free. The price after entering the coupon is the final amount you will pay for you.
This is how Jimmy JW31 works:
Wash without cables
We all know this - you want to wash your car or bike, but before that you have to prepare electricity for your cleaner. Jimmy It will relieve you of this worry - it is enough for him connect only a water hose and you can wash happily.
He takes care of the power supply 2500mAh Li-On fast charging battery. On a single charge should Xiaomi Jimmy wapka wash 2 cars in a row.
The battery is removable and contains five articles. If it runs out, you can quickly eject it and start charging. It takes time to charge the battery 2,5 hours. This cleaner is therefore directly designed to be carried.
Sufficiently powerful pressure
Jimmy can develop thanks 180 W engine pressure 2,2 MPa. Your car or bike gets rid of dirt, mud or dust from the left rear. Its flow is 180 L / h. Xiaomi tried to keep his body as small and light as possible. It only has that 1,8 kg!
Multifunction nozzle
The nozzle is designed to be possible change spray patterns thus making certain parts of the wash more efficient. There is up to 5 different modes, which you can choose by simply turning the head. For example, you can change the spray angle or the amount of flow.
You will also find an additional one in the package containerinto which you can pour for example car detergent. This will ensure even better cleaning.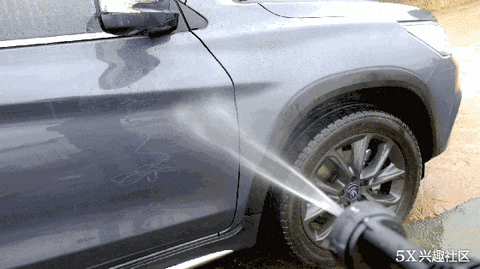 Appearance and other features
cleaner design recalls gun. This is for convenient handling so that it can grab with two hands. The handles are soft and comfortable rubber, so that Jimmy doesn't slip out of you. The length of the hose is 6 meters.
There is also a special one Eco mode to save water. So if you don't need thorough cleaning, you can save water. Eco + shower mode is in turn a good choice for washing your own pet.
Jimmy so it is very practical partner, especially now on hot summer days when you can do your pets refresh with a shower or wash your car quickly and efficiently.