The latest wireless headphones from the Chinese technology giant, inspired by competitors from the orchard, are also on sale for us.
Xiaomi AirDots Pro you buy at a discount thanks to a limited coupon provided by a verified seller.
Lowest price ever
Xiaomi AirDots Headphones hit historic price. A verified Banggood dealer brings a special price to the highest quality TWS headphones from Xiaomi. This is the lowest price at which these headphones were sold.
The well-known EU Priority Line duty-free transport is available, thanks to which you will not pay any additional fees. Customs and VAT will be provided directly by the seller.
The high quality of the headphones was also confirmed by an Apple device tester
An unmissable inspiration
Xiaomi was clearly inspired by Apple AirPods in the design of the AirDots Pro. However, the Chinese Apple is not even hiding this, and it has long admitted that they like Apple products and like to be inspired by them. The AirDots Pro thus has two separate wireless in-ear headphones that are supplied with charging box. They are available in white, but also black color.
Each of the headphones has a weight 5,8 grams, while the total weight even with the box is only 58 grams. You can hardly feel them in your pocket at all. AirDots Pro include touchpads with gesture support.
Touch there to answer / reject calls, turn on XiaoAI assistant, control playback or activate noise reduction. Yes, the headphones are coming with active suppression of ambient noise. Headphones also support AAC audio standard, making them even better and clearer sound.
Up to 10 hours of music playback
The manufacturer states that only 1 hour charging enough for 3 hours of talk time or 10 hours of music playback. The headphones are charged via a box with USB Type-C connector, which is also included in the package. The headphones themselves last 3 hours at 80% volume after charging.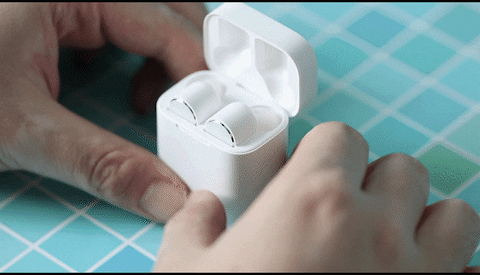 Charging is possible via a standard adapter, such as the one you have with your smartphone. Inside the box is located 410 mAh battery.
When you remove the earpiece from your ear, the music is automatically interrupted. If they are not used for more than 30 minutes, they go into sleep mode, when no energy is consumed.
The advantage of Xiaomi AirDots Pro is also IPX4 certification, thanks to which they can withstand splashing water. You don't have to worry about using it in the rain. The headphones are compatible with both iOS and Android smartphones. The connection is via Bluetooth version 4.2 and the range is the classic 10 meters.