Mark Segway has a number of different e-mobility products in its portfolio. It offers scooters for children and adults, hoverboards, single-wheel scooters, and even an electric go-kart. Through crowfunding, the company came up with a moped-style e-bike this time - Segway eMoped C80.
On the Indiegogo platform, this product has already exceeded its target by 2878%, and at the time of writing, more than € 245 / $ 287 has been collected. This is a very popular product.
The first e-bike in the style of a moped
This is the first electric bicycle, which has the form of a moped, thanks to which the ride on it will definitely be comfortable.
Segway eMoped C80 has thanks 750 W engine maximum speed of up to 20 mph, which is around 32 km/h. The range should be up to 85 km.
Its weight is approximately 55 kg including battery. Displays speed and other information on the LED display. In the front there is a light which, thanks to a light sensor, can adjust the brightness of the environment.
Intelligent RideyGo system
The intelligent system called RideyGo brings several interesting functions such as AirLock system, NFC, Smart Seat and Auto-Lock mode.
AirLock is a feature that makes it easy to unlock an e-bike using a smartphone app (Segway-Ninebot app). All you have to do is have a smartphone with the app with you.
When the eMoped C80 is connected to an application, it can automatically identify the user based on the presence of a smartphone near him.
support NFC it is also a gadget that allows you to quickly unlock this electric moped. Just attach the so-called The NFC tag to the display and the eMoped C80 are immediately unlocked.
The seat is equipped with intelligent sensors (Smart Seat) which, when they detect that the user has risen from the seat, lock the handlebars within 3 seconds (Auto-Lock). With this function, you can also unlock the eMoped - just sit on it.
Thanks to these mechanisms, the eMoped will not move after adding gas if no one is sitting on it.
Battery and Auto Cruise function
The Segway eMoped C80 is equipped 1152 Wh battery with a capacity of 24 Ah, which will ensure a range of up to 85 km. The battery itself weighs 5.5 kg and is located under the seat, from where you can easily remove it.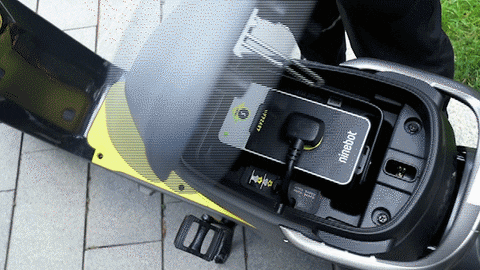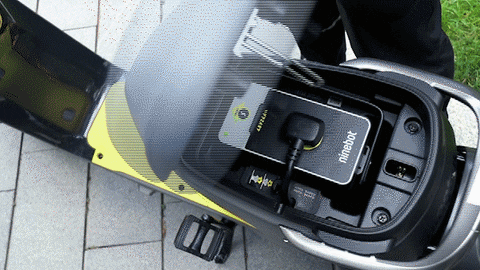 Like electric scooters, this eMoped has a cruise control feature that will maintain a constant speed instead of you - a feature Auto Cruise.
Theft protection systems
Thanks to support GPS a LBS you can keep track of where the eMoped is. A lesser known abbreviation, LBS, is a positioning system based on telecom operators' transmitters. It determines the position according to the distance from the nearest transmitter.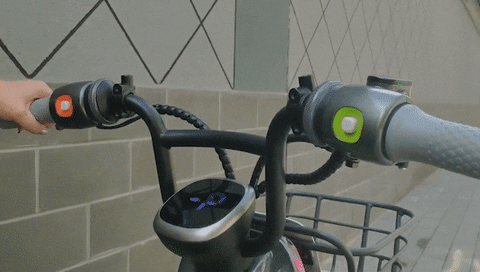 If the locked eMoped starts to move, it will send a notification to your smartphone. In addition, such a movement triggers an alarm and the LED bars on the handlebars flash. After 3-4 seconds, the wheels even lock, which prevents further movement.
Brakes and suspension
Segway eMoped C80 is equipped with two brakes - front disc and rear drum brake with EABS (Electric Absorption Braking System) function.
At the front you will find a fork with shock absorbers and in the middle part a spring shock absorber, thanks to which the ride will be very comfortable.