Although Xiaomi already offers several thermometers and hygrometers, it brings another. Xiaomi QingPing Bluetooth thermometer and hygrometer has support for the Mi Home platform, which means it can communicate with other smart devices from Xiaomi.
Very cheap but handy
He also received a very low price tag, which ranks him among the cheapest smart thermometers on the market. In home China, homeowners can buy it for 99 yuan, which is about 13 € / 340 CZK.
The design of this new model is slightly different. Instead of a square shape, the new Xiaomi thermometer and hygrometer have a round shape. The novelty has Bluetooth connectivity, thanks to which he can communicate with the Mi Home application. You can view all the data recorded by the thermometer in the application.
Integration into the Mi Home platform also means ability to communicate with other smart devices in this platform. For example, the user can set the Xiaomi smart air conditioner to turn on if the room temperature exceeds 25 ° C. The thermometer can send the same commands to an electric heater or air purifier.
The device even has a built-in storagewhich allows you to store data every 15 minutes and keep them for up to 30 days. All data such as temperature, ambient humidity and battery status are displayed in real time on E-ink display with ultra low energy consumption. The display is made of ecological PC / ABS + PMMA material, which does not contain harmful substances.
The new Xiaomi thermometer and hygrometer received high precision swiss digital sensors with a temperature measurement accuracy of 0,3 ℃ and a humidity measurement accuracy of 3% RH. It is also possible to display the temperature in degrees Celsius or Fahrenheit. The device is powered CR2430 battery, the endurance of which at normal room temperature is given at 8-12 months.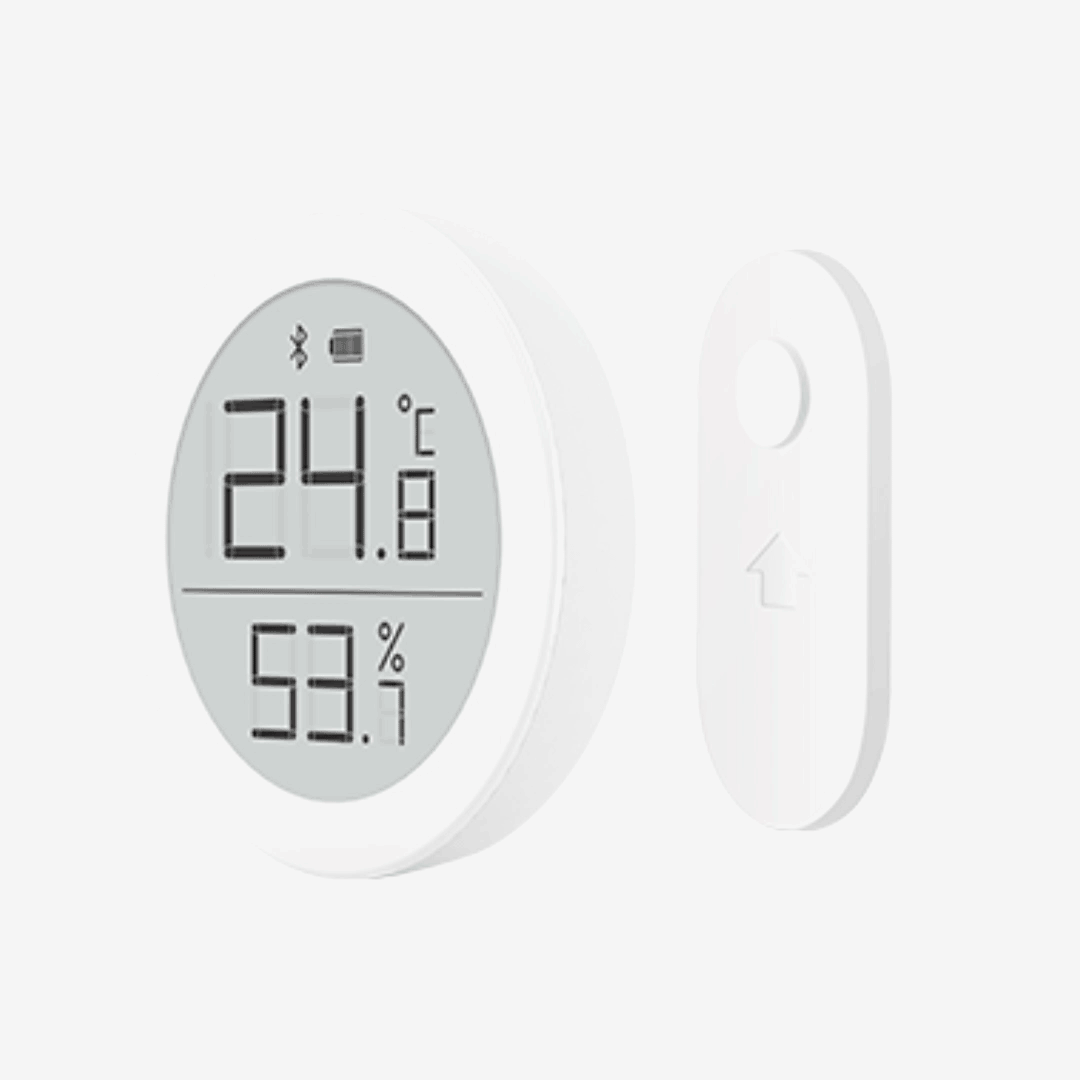 The installation of a digital thermometer is possible in three ways - by gluing it to the wall, attaching it with soft magnets or standing on its own support leg. You can place the device in the room, bedroom, table, flower shelf, kitchen… easily everywhere.