A brand new Xiaomi Himo C20 electric bicycle has recently been added to several Xiaomi electric scooters. It surprises with its equipment, range of up to 80 km and reasonable price. Now it is also on sale for us Slovaks and Czechs.
Stock price in German stock
The Himo C20 electric bicycle is now available to customers from all over Europe. The bike can be bought through a Cafago dealer who sends it directly from a German warehouse. There is also a discount coupon. Delivery will take only 2-7 working days.
💡 Xiaomi Planet TIP: Make sure your credit / debit card is set up before you make a payment sufficient limit for payment by card over the internet. You can do this via Internet Banking or a banking application on your smartphone. In case of insufficient limit, your payment will not pass.
Himo C20 electric bicycle
Himo C20 is a jigsaw puzzle with a range of 80 km
HIMO C20 is a jigsaw puzzle. On steroids. The basis of the bicycle is a robust aluminum frame, with dimensions of 1470 mm x 610 mm x 1060 mm and weight 21,1 kg. You already know that this is not a classic jigsaw puzzle.
Just alone 10 Ah battery weighs 2,5 kg. It consists of several cells of type 18650 and in Eco mode (when you step on the pedals) provides a range of up to 80 km! In pure electric mode, the bike goes on one charge approximately 50 kmwhich is still a very decent range.
The battery is elegantly stored in the frame of the bicycle and is removable. When charging, the battery must be removed, taking charging takes place up to 6 hours.
The battery status as well as the current speed and the selected mode are displayed on the display on the handlebars. These are by the way folding, as the only part of this puzzle.
Maximum speed 25 km / h and several modes
The HIMO C20 is powered by an electric DC motor with an output of 250 W. In normal mode it reaches maximum speed 25 km / h. The bicycle can operate in several modes, in normal mode with the engine inactive, in engine-assisted mode and in fully electric mode.
The selection of modes takes place on the aforementioned display on the handlebars, which is also resistant to splashing by water thanks to IPX5 certification.
There is also energy recovery from a pair of mechanical brakes. These are efficient and can stop the bike at a speed of 25 km / h at 4 meters. In the case of a wet surface, it is 6 meters.
Shimano derailleur and cool hidden function
The HIMO C20 electric bicycle comes with 6-speed derailleur from a well-known brand Shimano. Thanks to several speeds, you can adapt the ride to the terrain or the slope of the road. The bike is built on 20-inch rims.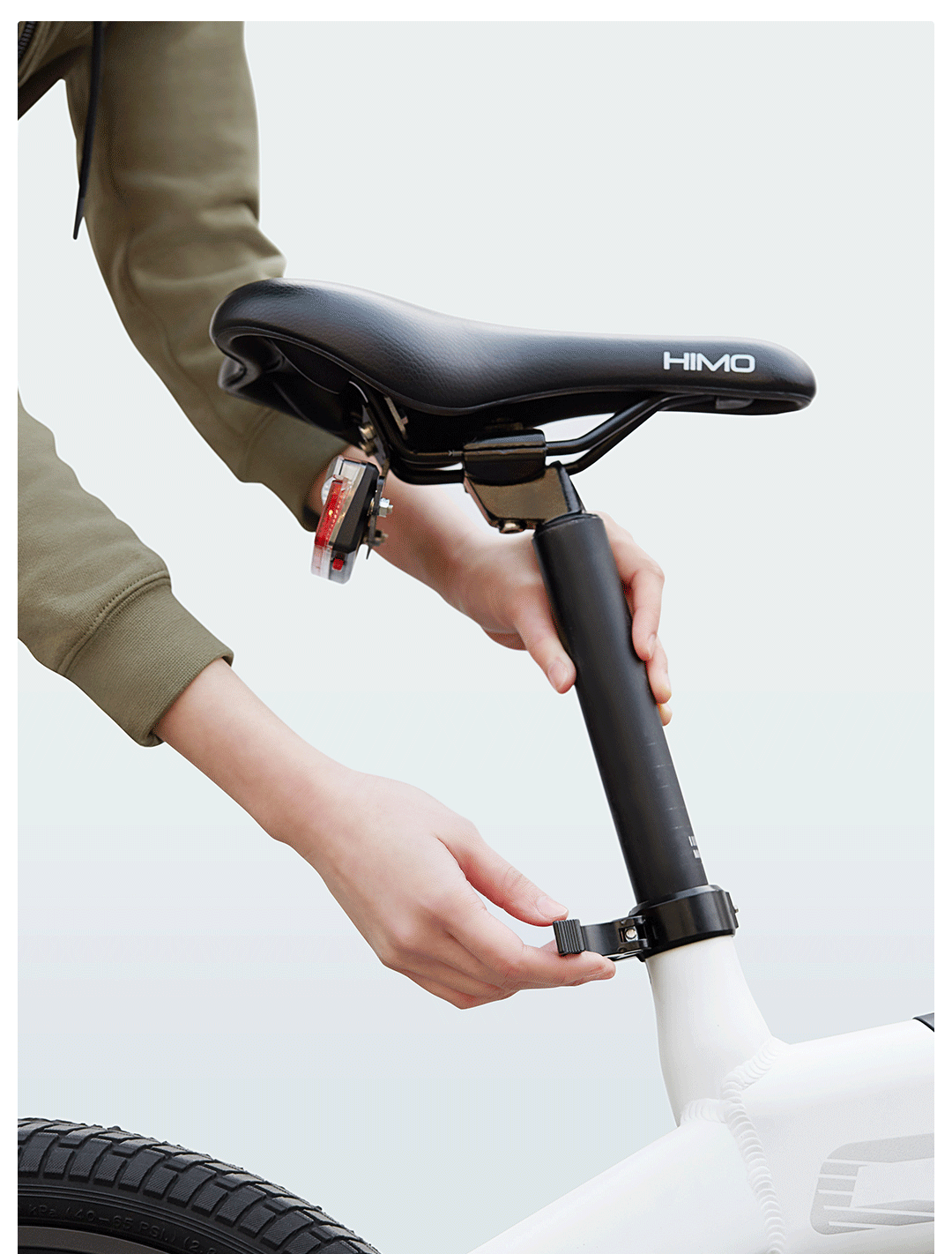 The maximum height of the seatpost is 965 mm. This is where the great hidden function lies. The seatpost is pulled out also serves as a pump! The saddle itself is made of vacuum foam cushions, thanks to which the ride will be much more comfortable.
The equipment of the HIMO C20 bicycle is closed by folding pedals, LED front light, rear red warning light and aluminum brake levers.
If you don't want to miss important info about Xiaomi news, don't forget to follow the Xiaomi Planet portal via our Facebook group and subscribe to the newsletter below. With your subscription, you will also get great discounts on products and at the same time the best prices.